Power-Up Resources Sdn Bhd
21, Jalan Desa Serdang 3,
Taman Desa Serdang,
Serdang Lama,
43300 Selangor,
+603-8959 8677
Toshiba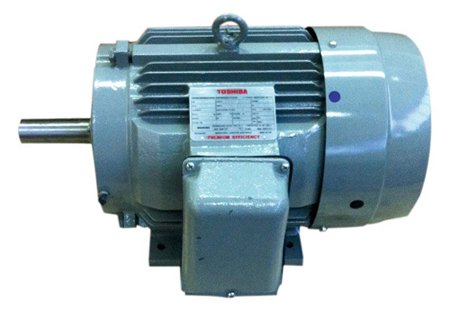 TOSHIBA MOTORS, TOSHIBA Electric Motors
STANDARD PREMIUM EFFICIENCY
LOW VOLTAGE MOTOR RANGES

PREMIUM EFFICIENCY MOTORS
( Premium Efficiency )
Rating: 0.37kw to 800kw ( 200V-1100V)
Pole: 2,4,6,8 Pole ( Special Available)
Protection Classification: IP56-IP66
Benefits: High starting torque with low starting current ensures premium performance under arduous load conditions. Easily adapted for VVVF control or reduced voltage staring, this range offers a high degree of flexibility in application while providing efficient performance.
LARGE HEAVY DUTY MOTORS
( High efficiency ) - motors above AS1359.30
Rating: 185kw to 800KW ( 200 V-1100V)
Pole: 2,4,6,8 Pole ( Specials available )
Protection classification: IP55-IP66
Benefits: Designed and built for Heavy Duty Industrial applications. Adaptable for VVVF control or reduced voltage starting, this range offers a high degree of flexibility in application.
HAZARDOUS AREA MOTORS
Both, premium Efficiency and High Efficiency Motor ranges are suitable for modification to comply with Hazardous area classfication and are certified to current Australian and IEC Standard. Refer to table on catalog page 7, for more details.
EXPLOSION PROTECTED MOTOR
Ratings: 0.37KW to 700KW ( 200V-1100V)
Pole: 2,4,6,8 Pole
Ingress Protection Classification IP55-IP66
Ex d certified to current Australian and IEC Standards including Group I mining
Benifits : Suitable for Industrial applications such as mining and petrochemical. Versatile construction, side or top mounting of terminal box, foot, foot & flange and flange mounting options. Modification to satisfy individual customer requirements and specification. Refer to Toshiba's flame proof catalogue.
Toshiba offers the widest range of Hazardous Area certified motors in Australia.
Some typical areas of use: Petrochemical, Mining, Oil & Gas, Chemicl.
Flameproof Ex d
Motors are constructed so as to contain an internal explosion within the motor and prevent the transmission of flame to external atmosphere. External temperature during operation is kept such that the surrounding flammable atmoshere cannot be ignited.
Certification and approvals
Toshiba flameproof motors are Ex d approved for explosive gase groups IIA, IIB, IIC for temperature class T4m and are also approved for underground Coal Mines, apparatus group I ( methane ).
Increased Sagety Ex e
These motors are not built to withstand an internal explosion ( flameproof). They are designed to ensure safety by means of a number of special features to ensure freedom from arcs, sparks or dangerous surface temperatures. They resemble standard motors in appearance but have special increased sagety terminals within an IP56 terminal box.
Non sparking Ex n
These motors are for use in Zone 2 hazardous locations. The Exn motor is very similar in construction to the TEFC machine. The main points of difference are:
Special attention to air gap concentricity and clearance of all rotating parts
Components subject to impact test
Maximum internal or external surface temperature T3
Terminal block material to ensure anti-traking
Special terminal block to stop creepage.
Temperature limit °c
T1= 450°c
T2= 300°c
T3 = 200°c
T4=135°c
T5=100°c
T6=85°c
Hazardous Area Classification
Zone 0 = Zone where explosive atmosphere is continously present for long periods (>1000 Hrs)
Zone 1 = Zone where explosive atmosphere is peiodically present in normal operation ( > 10 Hrs - 1000 Hrs )
Zone 2 = Zone where explosive atmosphere is not likely to be present in normal operation and if present it exist for short periods only ( < 1- Hrs )
Zone 21, Zone 22
Group Classification
Group 1= Coal Mines
Group 2 = Other
Hazard classification
Class I = Gas
Class 2 = Dust
Gas Grouping for Electrical Apparatus EN 50014 and IEC 60079-0
Group I = All underground Coal, Mining applications, Firedamp ( methane )
Group IIA = Industrial methane, propane, gasline and most industrial gases
Group IIB = Ethylene, coke oven gas and other industrial gases
Group IIC = Hydrogen, acetylene, carbon disulphide
Toshiba certifications of Compliance
AUS Ex 00.3695X , reference standards IEC 60079, AS/NZS 60079.1
AUS Ex 00.3697X, reference standards IEC 60079, AS/NZS 60079.1
AUS Ex 00.3698X, reference standards IEC 60079, AS/NZS 60079.1
AUS Ex 1174X, reference standards AS/NZS 60079.7
IEC EX Tsa 09.0034X, reference standards IEC 60079, AS/NZS 60079.15
AUS Ex 1078X, reference standards ANZS 61241
Motor Features Include:
Heavy Duty Construction
Frame are high grade cast iron
Steel fan covers are standard with cast iron option
Sintered bronze drain plugs are fitted as standard for frames D160 and above. Available as an option on smaller frames.
Standards
Toshiba Premium Efficiency Motors comply with AS1359 and MEPS 2006 requirements.
Special motors to other Standards are also available eg. NEMA, CENELEC or other national standards.
Premium Efficiency laminations
Premium-grade silicon steel and longer cores lower operating flux densities and losses achieving optimum efficiency.
Low Loss StatorWindings
Toshiba's use of greater cross sectional area of copper lowers winding resistance and reduces losses giving improved efficiency.
All windings are insulated with non-hygroscopic materials, ensuring reliable motor operation in humid, corrosive and abrasive industrial environments.
Insulation & Thermal Advantage
Toshiba motors are insulated with class "F" materials and feature excellent thermal reserve, offering low temperature rise characteristics generally below class 'E".
These characteristics allow optimal flexibility in regard to variable frequency drives, higher altitude and higher ambient applications, and are also forgiving to intermittent current overloads.
Flexible Terminal Box Design
Cast Iron terminal boxes are diagonally split, and have flanges and neoprene gaskets. Larger frames have oversized fabricated steel boxes.
All terminal boxes are fitted with removable gland plates, drilled and tapped to dimensions specified in catalog pages 10-13. Blank or customised gland plates are available as an option.
Terminal boxes may be rotated 90° by four positions for conduit entry on frames smaller than D315.
Terminal boxes are mounted right hand side, viewed from drive end, and can be mounted on the opposite side if required on frames up to D225. on frames D250 and above, for non-standard terminal box positions contact Toshiba office at time of order.
Low Noise levels
Special attention to the fan and cowl design chieves quiet operation with efficient cooling. Toshiba can supply motors with special low noise level fans and/or acoustic covers.
Fans are cast iron or fabricated steel depending on frame size.
High Torque Rotor
Pressure cast aluminium rotors with integrally cast bars, end rings and cooling fans, provide reliable operation.
Specially designed rotos give Toshiba motors advantageous torque characteristics and minimize losses.
Long Life Bearings
The use of oversized bearings assures long life and quiet operation. Motors in frame sizes up to D132 have sealed bearings. Larger sizes have regreaseable bearings.
Hardware
All fastenings are zinc passivated for resistance to corrosion.
Threads are metric.
Performance Data, Dimension, Bearing information may refer catalogue.
We supply Toshiba Motor in Malaysia, Indonesia, Thailand, Hong Kong & China etc