Power-Up Resources Sdn Bhd
21, Jalan Desa Serdang 3,
Taman Desa Serdang,
Serdang Lama,
43300 Selangor,
+603-8959 8677
MOTOX Geared Motors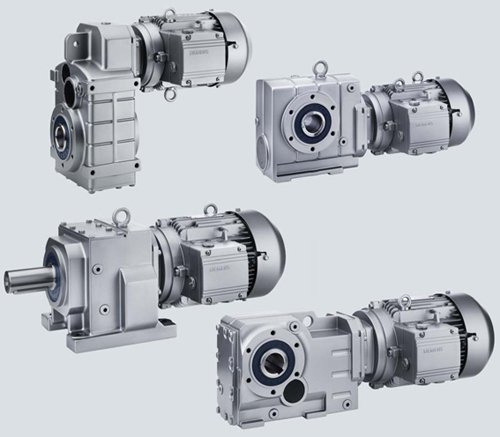 > Helical Geared Motors
> Parallel Shaft Geared Motors
> Bevel Helical Geared Motors

Overview
MOTOX standard geared motors
SIMOGEAR
With MOTOX we are offering the complete range of geared motors. Our portfolio includes all of the usual gear unit types and covers all drive applications. Here you will find the optimum solution for each and every task. Not only this – you will have chosen gear units with higher rated torques than are generally available in the market place.
The geared motors can be supplied for a power range up to 200 kW and rated gear unit torques up to bis 35 × 103 Nm with helical, offset shaft and bevel helical gear units. Versions with helical worm gear units are available up to 11 kW and 1 590 Nm and motors with worm gear units up to 0.75 kW and 80 Nm.
The geared motors fulfill all of the applicable international regulations:
The standard motors are in compliance with the applicable IEC/EN Standards.

We offer motors with the following specifications for export into the NAFTA market (US, Canada, Mexico): Electrical NEMA, UL, CSA

CCC certified motors are available for export to China; GOST-R certified gear units and motors for export to Russia.

Our high efficiency geared motors in EFF1 and EFF2 ensure that you operate cost-effectively

Brief overview of their strengths

High rated gear unit torques
Our new MOTOX series of geared motors distinguish themselves as a result of their outstanding technical performance. You profit among other things from output torques up to 35 × 103 Nm and higher rated torques with the same gear unit size than geared motors from our competitors. Further, you achieve a better operating factor and therefore higher plant availability and operational reliability.

High gear unit ratio
We achieve an extremely high gear unit ratio as a result of our special mechanical design. In many applications, this results in a cost-effective solution as one gear stage can be eliminated. You can also enjoy cost advantages if you can use standard 4-pole motors instead of 6 or 8-pole motors. This is due to the higher ratio.

Quiet geared motors
We have been able to drastically reduce the noise due to the lower circumferential velocity after the first gear unit stage.

High degree of flexibility
No matter what your requirements are: Thanks to our modular system of geared motors – our complete range can be combined as required. You can configure all of the versions and mounting versions of geared motors generally used in the market. The gear units can be combined with a high degree of versatility and can therefore be adapted to the widest range of drive situations. On the motor side, MOTOX is a modular system and has a been optimized from the logistics perspective. Using mounting shaft function units such as brake, separately-driven fan and encoder can be mounted. The basic motor always remains the same so that function units can be added even after the motor has been installed.
We supply Flender in Malaysia.
SIEMENS Malaysia.