Power-Up Resources Sdn Bhd
21, Jalan Desa Serdang 3,
Taman Desa Serdang,
Serdang Lama,
43300 Selangor,
+603-8959 8677
Simotics Nema Explosion XP100 ( 1MB2)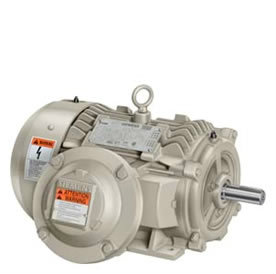 Download
XP100_Brochure.pdf
(429.26 KB)
Features_XP_100.pdf
(40.59 KB)
Siemens_Patner_Cert_5-3-14.jpg
(0.96 MB)
NEMA Premium Explosion Proof Motors
Explosion Proof Motors – XP100
General Description
Siemens explosion proof motors XP100 are ideal for the toughest and harshest operating environments. Petrochemical and chemical processing, mining, pulp/paper and waste management are some of the many applications where these motors have proven their performance.
XP100 motors are available with a wide variety of features, QuikMOD modifications and custom designs to meet your specific motor needs. Standard in their design, and clearly printed on the nameplate, these NEMA Premium® efficient motors can be operated with an adjustable speed drive, meeting or exceeding NEMA MG1 Part 30 and 31, and maintains its outstanding performance with a speed ratio capability of 20:1 variable torque and 4:1 constant torque for most ratings.
Performance Specification
HP Range

1 - 300

Frame Size

140 - 440

Frame

Cast iron

Efficiency

NEMA Premium ®

Voltage

208-230/460 V

230/460V

460V

575V

Hazardous Classification

Class I, Groups C&D, Class II Groups F&G, Division 1

Temperature Classification

T3C

Service Factor

1.0

Insulation

Class F

Temperature Rise

Class B @ 1.0SF,

Class F @ 1.15SF

Conduit Box (Oversized)

Cast iron

Fan Cover

Cast iron

Cooling Fan

Bi-directional- Polypropylene

Rotor

Die Cast Aluminum

Vibration

0.08 IPS

Inverter Duty

VT 20:1

CT 4:1
Rotor
A unique rotor design provides improved efficiency while larger bars and end rings reduce resistance for lower rotor losses. Each die cast aluminum rotor assembly is dynamically balanced for extended bearing life, and includes a high strength carbon steel (C1045) shaft for maximum rotor performance.
Application
The explosion -proof motors are used in the following sectors, pls select the correct motor accoding to Zone, Category & degree of protection:
Chemical and petrochemical industry
Production of mineral oil and gas
Gas works
Gas supply companies
Petrol stations
Coking plaints
Mills (eg. sugar, solids )
Sewage treatment plants
Wood processing (eg. sawdust, tree resin )
others industries subject to explosion hazards
POWER-UP Resources SB - authourized SIEMENS motor distributors, SIEMENS suppliers in Malaysia.
We supply SIEMENS to others countries, eg. Indonesia, Thailand, Vietnam etc.
​SIEMENS Malaysia.